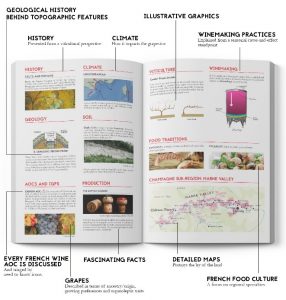 El Guild ofrece programas de estudio y certificación sobre los vinos y las regiones vinícolas de Francia, Italia y España. Creada originalmente como la Sociedad Francesa del Vino, la organización se convirtió rápidamente en el proveedor líder de programas de estudio y certificación del vino francés a nivel internacional. Para dar cabida a las solicitudes de la industria del vino para programas de estudio igualmente detallados sobre Italia y España, la Sociedad Francesa del Vino se reorganizó como el Wine Scholar Guild.
FRENCH WINE SCHOLAR
The program includes all the necessary tools & support to master the wines of France:
Our sessions will include 25 hours of classroom instruction with tutored tasting taught by approved instructor. The 274-page full-color French Wine Scholar study manual.
1-year access to the French Wine Scholar online study program for class preparation and review.
Registration for the French Wine Scholar Exam.
In order to bring each region to life, you will also taste multiple different wines over the course of the program.
Schedule of classes:
The schedule of classes is designed to give students the necessary time to truly assimilate the extensive body of material presented:
All students receive a study book as well as access to the course E-Learning Modules.
An average of 8-10 wines will be tasted per class with some matching with typical regional foods.
Content
Wine Tasting: Taste and describe wines from key French regions.
Regional Food and Wine Matching: An informal guide to the key considerations when matching food and wine.
Wine Service and Storage: Learn the correct way to store and serve key French wines.
Grape Varieties: Learn about the characteristics and styles of wines produced from ALL the French grape varieties.
Regions: Full immersion in ALL the French wine regions; Alsace, Champagne, Burgundy, Beaujolais, Jura, Savoie, Loire, Bordeaux, Languedoc-Roussillon, Rhone, Southwest, Provence and Corsica.
Number of Wines Tasted: 50+ wines will be tasted as part of the course.
Study Materials: Students will receive the French Wine Scholar Study Manual, a comprehensive guide to ALL French wine.
Additional Materials: Students will have access to a complete E-Learning Package. There are 20 multimedia modules with webinars on regional wine styles, review quizzes, forums, downloadable maps & etc.
Duration of course: 4 days online class then 2 days in classroom
Examination: 100 multiple-choice questions to be answered in 60 minutes. A mark of 75% required to pass.
Certification: All students who pass will be issued with a certificate suitable for framing and a lapel pin.
Más información en: www.winescholarguild.org